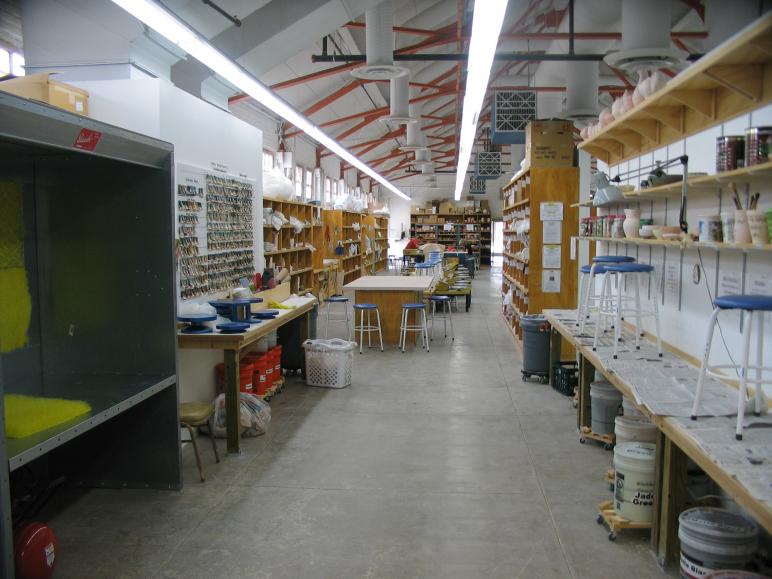 Residency Program
*The Workhouse Ceramics Program currently has 1/2  of the new shared Emerging Ceramic Artist studio space available.  See below or contact the Ceramics Director-Dale Marhanka at dalemarhanka@workhousearts.org for information regarding the Emerging Ceramic Artist studio space.*



Workhouse Arts Center
Ceramics Residency Program
The Workhouse Arts Center Ceramics Residency Program offers the emerging, pre-professional or professional ceramic artists the individual space and time needed for personal artistic growth in a dynamically cooperative educational environment. The Ceramics Residency Program provides the serious ceramics artist an opportunity and ability to function independently and to refine and exhibit their work, expand on their educational experiences, and contribute to the growth and promotion of the cultural arts in our Community, our Artists, Students, Ceramics program and the Workhouse Arts Center.  The new state of the art facility comprising 8,000 sq. ft. with 5- 220sq. ft. individual resident artist studio spaces, a dedicated retail gallery space, classroom space, two indoor kiln rooms, outdoor gas kiln space w/ a 32 Cu. Ft. shuttle kiln, Raku kiln, raw materials lab, ball mill, clay mixing equipment, slab roller, extruder, and spray booth allows the artist to expand their use of a variety of tools and processes available for the ceramic artist.
Eligibility
Ceramic Artists; emerging, pre-professional or professional with demonstrated commitment, background and working knowledge of ceramic techniques and processes including hand-building and/or wheel throwing, firing and glaze making skills.  All accepted applicants must go through a short orientation and training on studio procedures and guidelines with the Ceramics Director and must follow all safe handling practices with materials and equipment.
How to Apply
Review of applications for the Ceramics Residency program occurs once every quarter-Winter, Spring, Summer and Fall Contact Dale Marhanka- Ceramics Director for the specific dates of that year.
Please contact (see below) the Ceramics Director-Dale Marhanka for application materials.  You will be required to submit an application form, a letter of intent, resume, artist statement, Teaching Philosophy (if applicable),  a CD or slides of 10 images (current within last 3 years) with image info sheet, and 2 letters of reference.

Shared Studio
There are two shared studio spaces in the ceramics program building. One for Resident artists to share, and one for Emerging artists. To apply for a shared studio space, click on the links below and specify that you are applying for a shared studio space when sending in your application. 

Forms
Click here for Residency Program Guidelines
Click here for Residency Application
Click here for Full Residency Program Description

Workhouse Arts Center Ceramics Program C/o Dale Marhanka- Ceramics Director, 9504 Workhouse Way -Bldg. 8, Lorton Virginia  22079  703-584-2982 dalemarhanka@workhousearts.org